/
5 Things You Need To Know About An Almond Blossom Photoshoot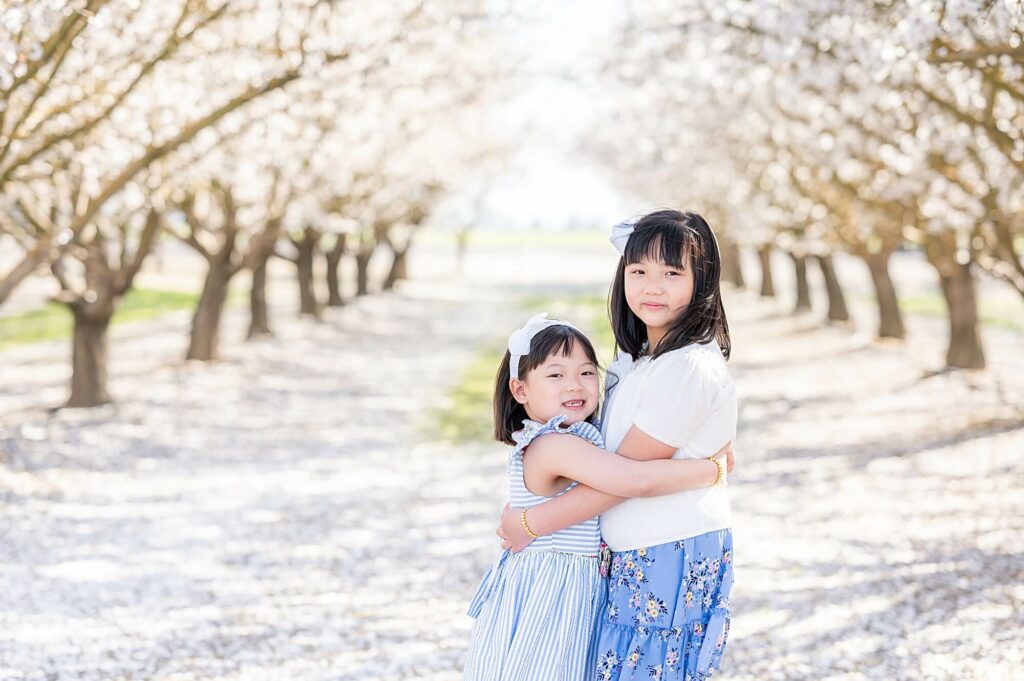 1. Why Do An Almond Blossom Photoshoot
How Central Valley, California Became Almond Central
Move over cherry blossoms!  Almond blossoms are the ultimate natural Springtime show in Northern California.  California almond orchards are on 1 million acres of land so it is no surprise that California grows 80% of the world's almond supply and 100% of the US commercial crop. 
In the 1930s, almonds were grown in Southern and Coastal California.  By 1970 however, the majority of almond farming moved to San Joaquin County (my county and part of Northern California's Central Valley!) because of its rich soil, a climate with less rainfall, and the availability of irrigated water.  From our county, almond farming expanded to other areas of the Central Valley.
Celebrate Spring
You've probably heard of cherry blossoms and how it is the beautiful sign of Spring in Japan and Washington DC.  Who knew I lived minutes away from a similar phenomenon?  When I moved to Stockton in 2015, I had no clue that I moved to Ground Zero for almond blossoms! Nothing says Spring like a million acres of almond trees in full bloom! The Central Valley in all its flower glory can give  Van Gogh's Almond Blossoms Painting a run for its money.
Unique Session Idea
I started noticing Almond Blossom Photo Sessions on Instagram in 2019.  The white flowers offer such a unique and dreamy backdrop for a photoshoot.  You can go for a soft Spring look, using pastel colored outfits against the white flowers.  You can also go for bold photos with vibrant colored clothes to pop from the snow white backdrop.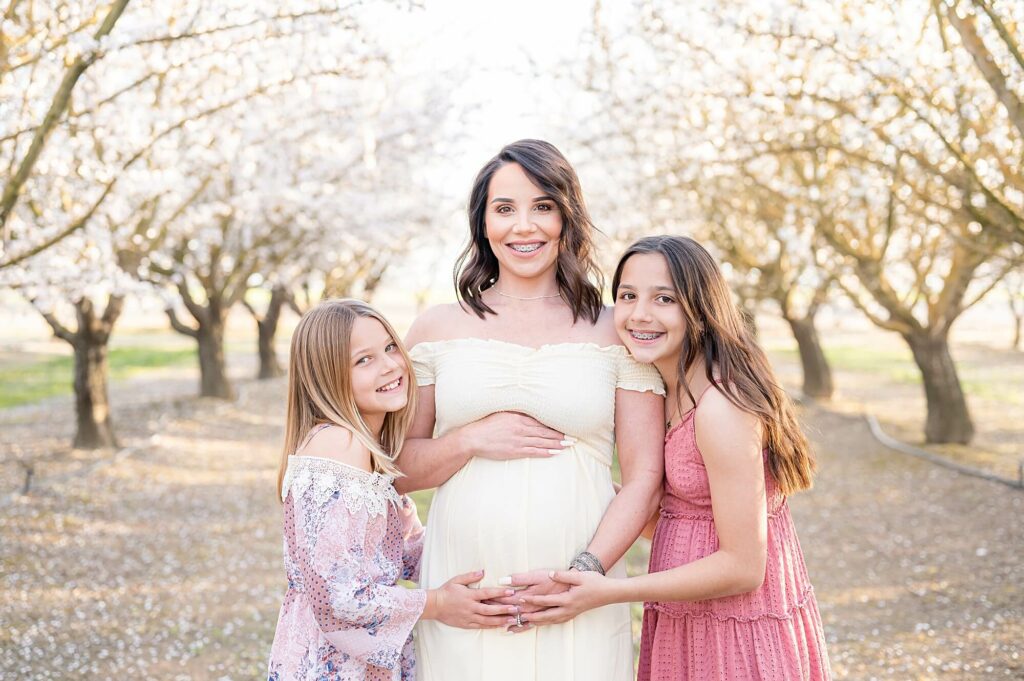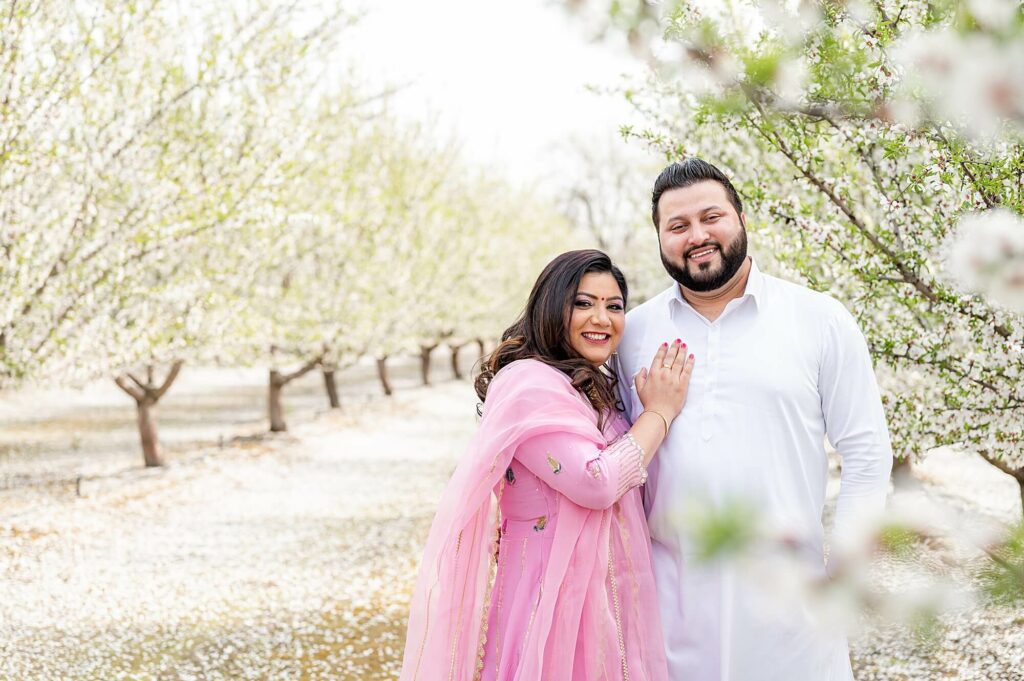 2. When is the Best Time of Year To Take Pictures With Almond Blossoms
When Do Almond Trees Bloom
Rainfall and how quickly the Central Valley warms up affects when almond trees bloom.  Depending on how much rain or how warm we get, almond trees burst in blooms between mid-February to mid-March.  
If an almond blossom session is on your bucket list, it is a good idea to get on a photographer's email list so you get notified when the blooms are estimated to arrive and when sessions are scheduled.   Join my VIP Email List and get first dibs on my Almond Blossom Mini Session spots!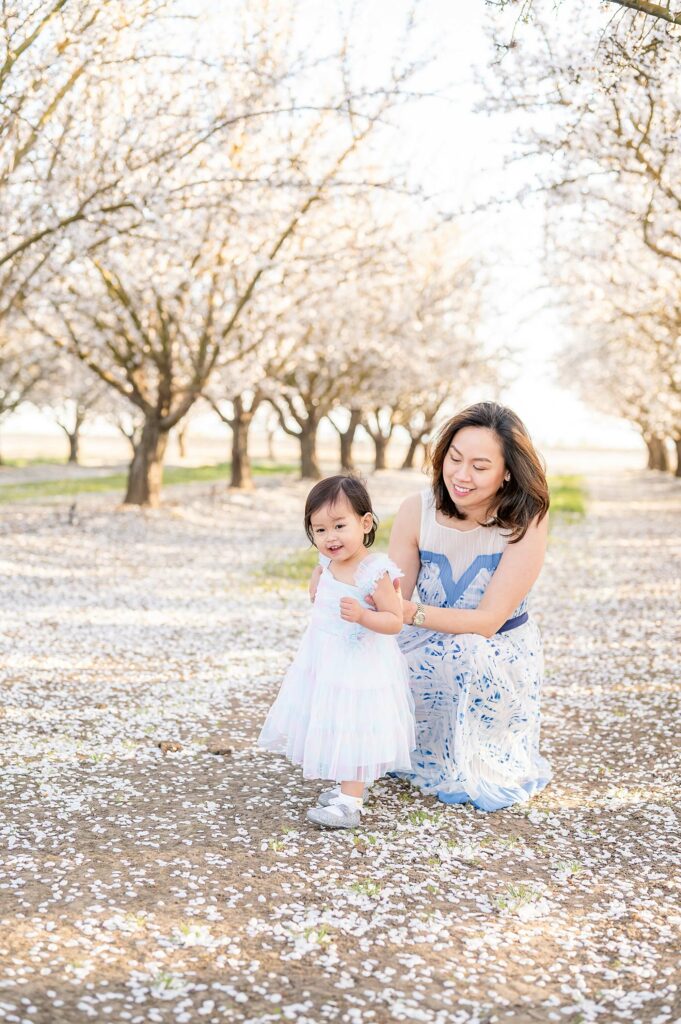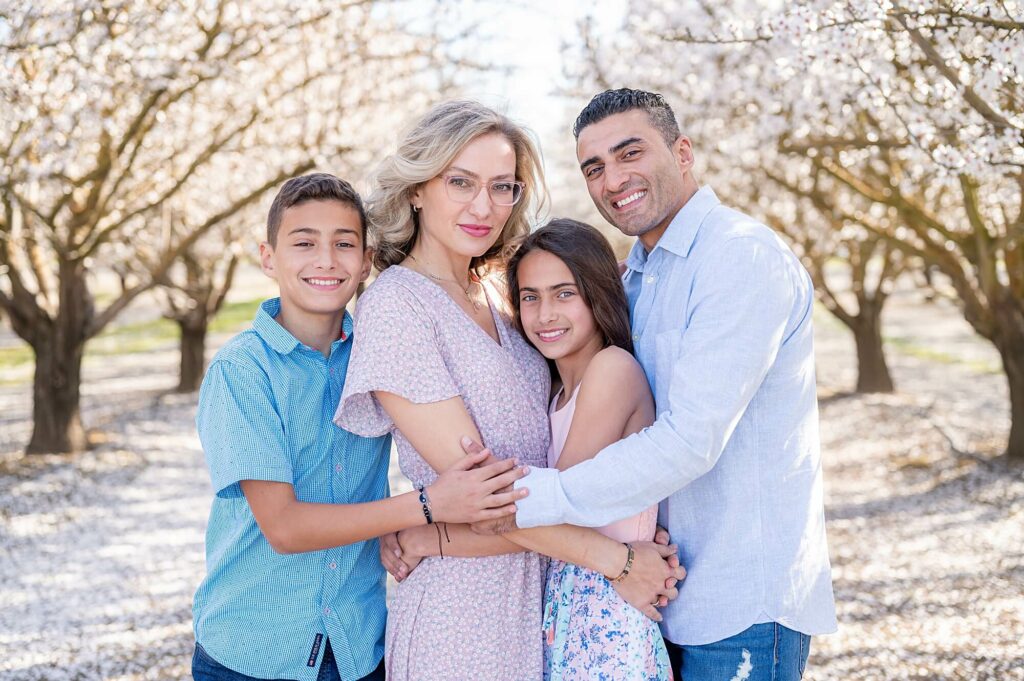 When Should I Schedule My Almond Blossom Photoshoot
What vibe are you going for?  If your session is at the beginning of the bloom period, you'll have green leaves and buds as your backdrop.  Peak bloom is popular since the trees are bursting with flowers.  Don't dismiss the tail end of the season since this is where you get almond petals on the ground and they become "valley snow".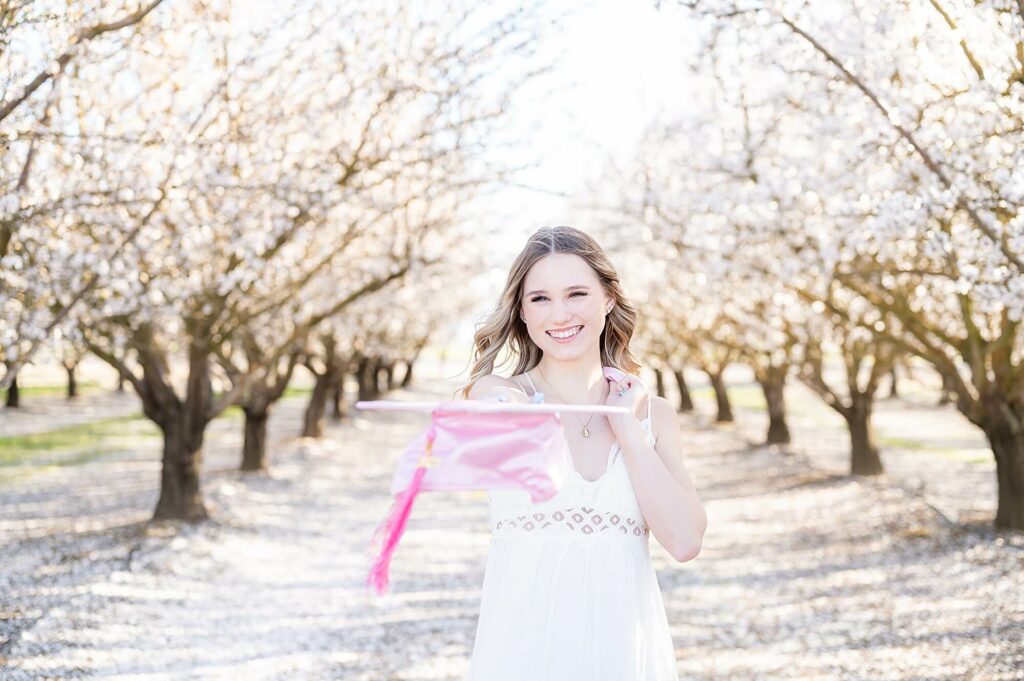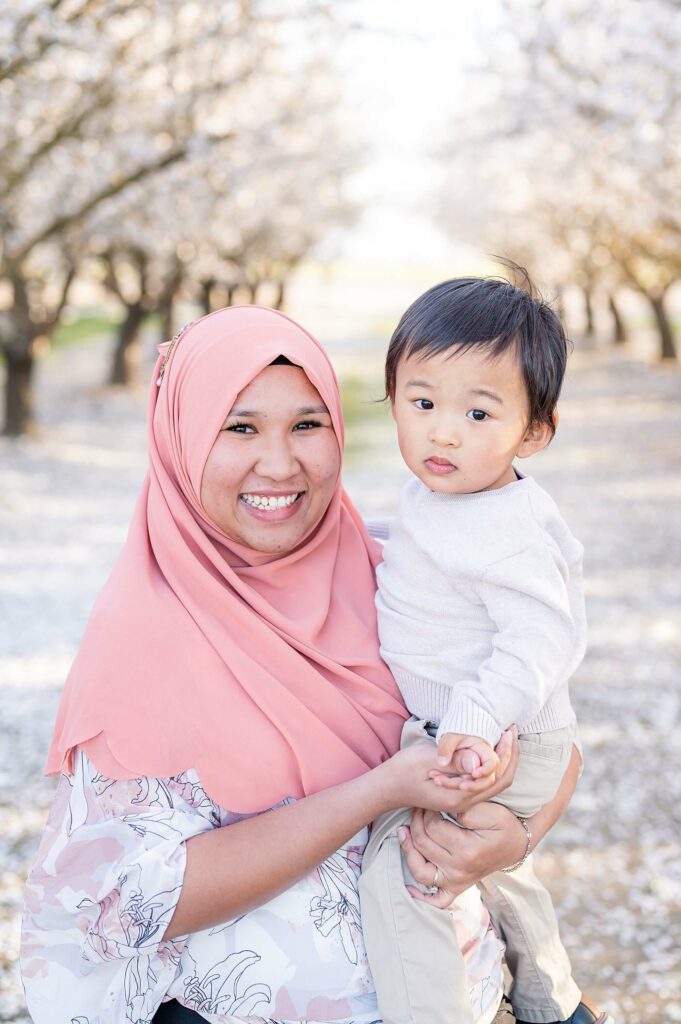 3. Best Locations For Almond Blossom Photos
Where in California do Almonds Grow
Take Highway 99 from Bakersfield in the South up to Sacramento in the North and you'll drive by several almond growing counties.  Best Time to Travel to California – Almond Bloom lists specific towns you can travel to and see the blooms live.  Yellow Productions' video 7 Best Almond Blossom Spots in California's Central Valley does a great job of showing you a trip up Highway 99 and the almond blossom viewing areas along the way.  
How to Access an Almond Orchard
Almost all almond orchards are on private property.  While you can see the blooms as you are driving in your car, it is another matter to actually get into the orchards and have a photo shoot.  One of the easiest ways to have access to almond blossoms is by hiring a photographer who already has a relationship with an almond farm.  
I have been working with a San Joaquin County based almond farm since 2020.  When clients book a session with me, I take care of reserving their almond blossom location for them.  They just show up to their bloom photoshoot!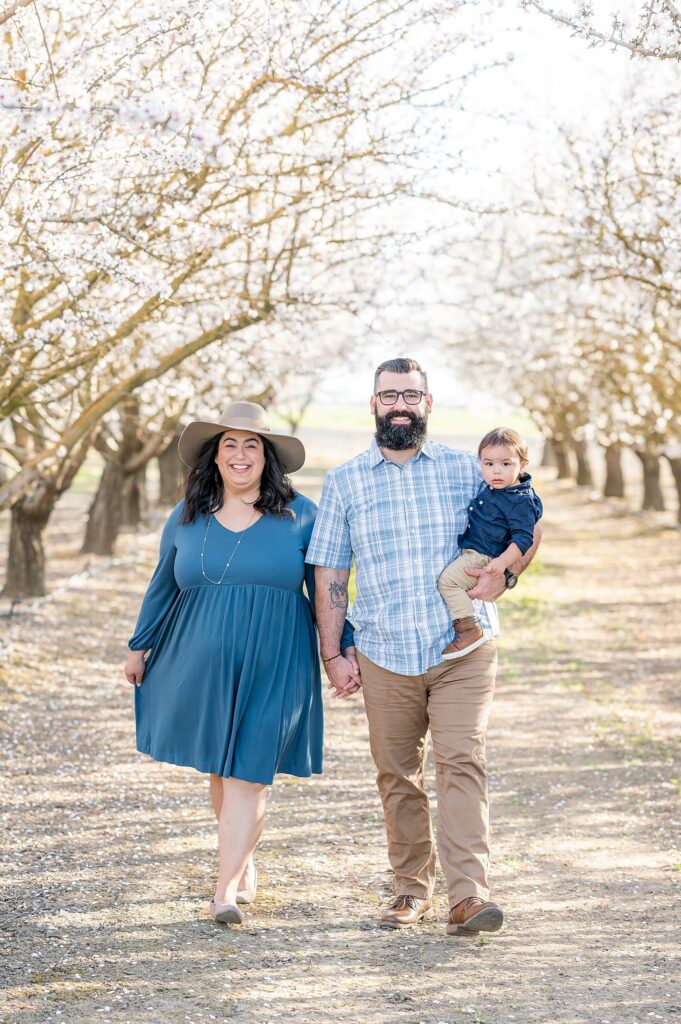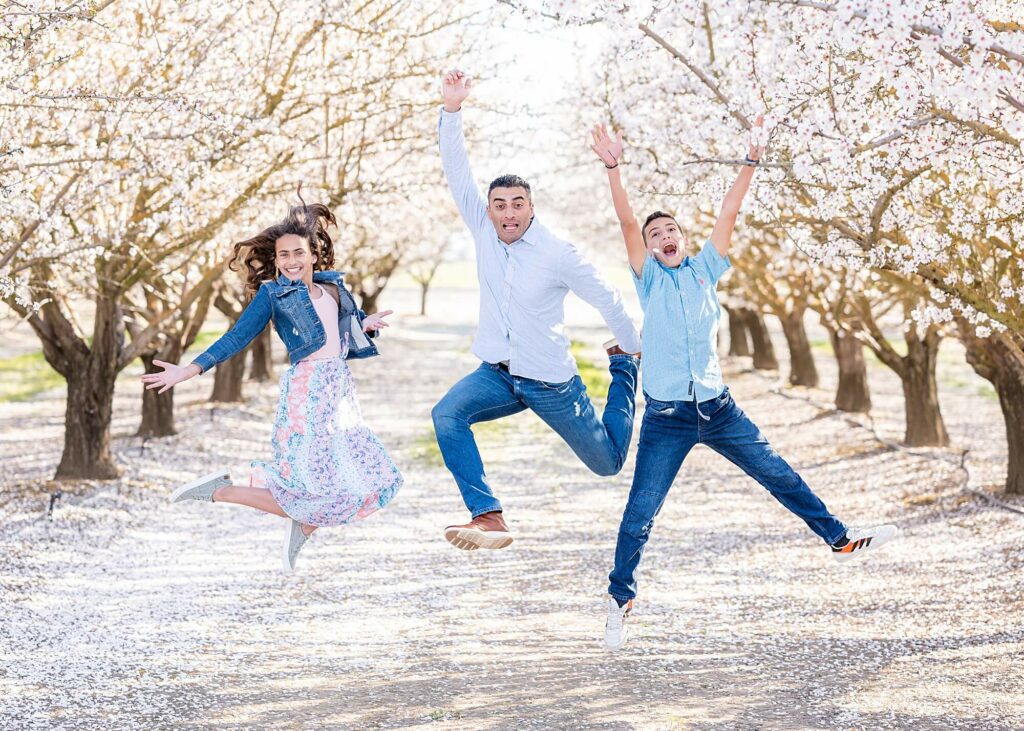 4. Almond Blossom Session Types
Almond blossoms are a perfect backdrop for a variety of photo session types.  For families, bloom sessions are a good alternative to Easter pictures with the Easter Bunny. For a high school senior, the almond blossoms will make a unique backdrop to your grad pics.  Maternity photo shoots are lovely in the almond orchards – you are celebrating a life growing in you while the earth is coming alive around you.  Engagement photo sessions also get all the romance amidst the flowers in the trees and the white petal carpet on the ground.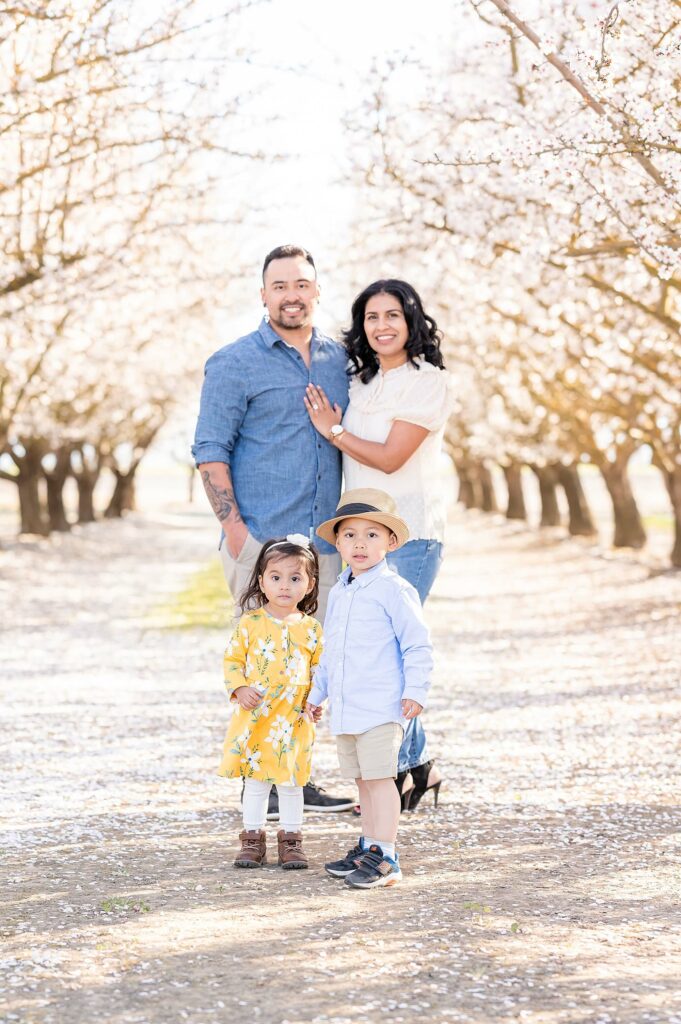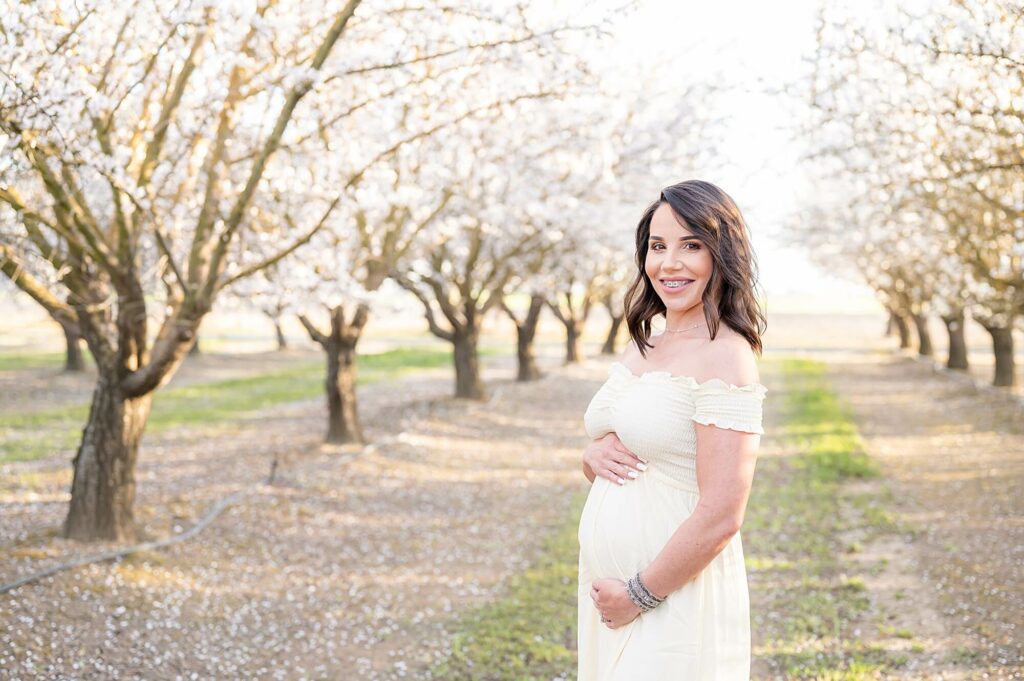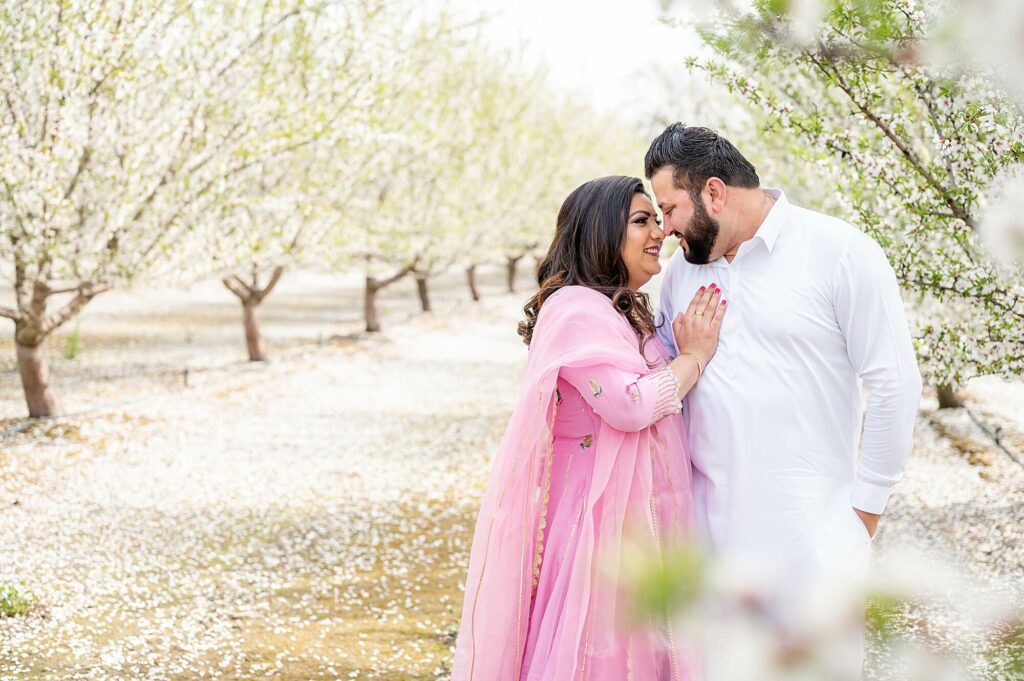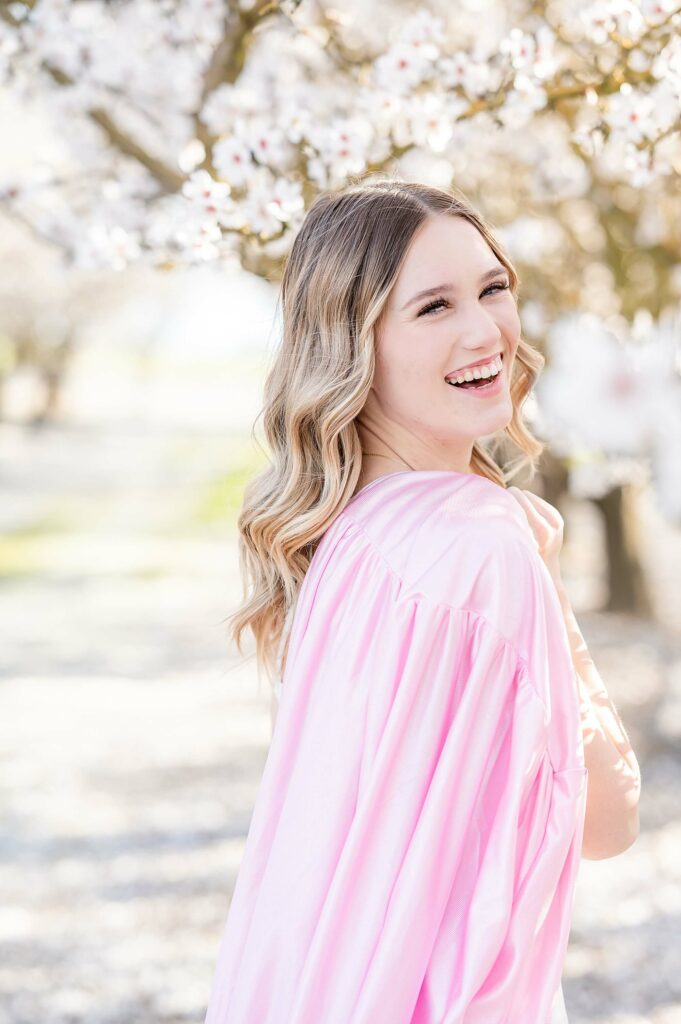 5. Why Hire a Photographer for Your Almond Blossom Photoshoot
In a word, convenience.  When you hire a photographer for a full session or sign up for their mini session, you take advantage of their experience with almond blossoms.  They figure out when the flowers are blooming, and reserve the location with the almond orchard owner.  They do all the leg work – you just show up to your bloom photo shoot! 
Let me do the prep work for your almond blossom session!  Get on my VIP Email List to get first dibs on my bloom calendar.  
Special Considerations – FAQ
Bee Allergies
Almonds need cross-pollination and this means bees.  Almond farms routinely rent bee boxes (beehives in wooden boxes) during the bloom period.  You should be aware that there will be a lot of bees in the almond orchard during your bloom photo shoot. They typically ignore humans.  But just to be safe, make sure you bring the appropriate medication with you (like an epipen or inhaler) to your session especially if you are allergic to bee stings.
Weather Impacts
Having an almond blossom photo shoot requires flexibility because the flowers are dependent on the weather.  A quick rise in temperature may induce the trees to bloom earlier than usual.  A rain or wind event can make all the flowers fall to the ground.  Be prepared to be available on 2 different dates – actual shoot and an alternative photo session date. 
How Do I Make The Most of My Almond Blossom Shoot Day
Check out local visitor organizations or tourism bureaus to find out what events are happening during your shoot day.  Visit Stockton CA and Visit Lodi CA are great resources to discover great San Joaquin County events are scheduled on your shoot day.  If you time your session right, you might have the opportunity to attend a local almond celebration like Ripon's Almond Blossom Festival.
Interested to Book an Almond Blossom Photoshoot
Ready to make your Almond Photo Session dreams come true?  Connect with me to schedule your free consultation and book your almond blossom photoshoot.